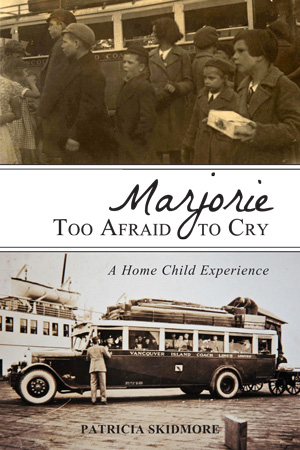 Marjorie Too Afraid to Cry:
A Home Child Experience
Marjorie Arnison was one of the thousands of children removed from their families, communities, and country and placed in a British colony or commonwealth to provide "white stock" and cheap labour. In Marjorie's case, she was sent to Prince of Wales Fairbridge Farm School, just north of Victoria, British Columbia, in 1937. As a child, Patricia was angered that her mother wouldn't talk about the past. It took many years to discover why — it wasn't because she was keeping a dark secret, but because she had "lost" her childhood.
For 10-year-old Marjorie, forgetting her past, her family, and England was the only survival tool she had at her disposal to enable her to face her frightening and uncertain future. This is Marjorie's account as told by her daughter. It is a story of fear, loss, courage, survival, and finding one's way home.
Reviews
This is a story of not just loss but of engagement between a mother and daughter trying to recover and record a personal journey that affected three generations. It will stand as a testimony to understanding the effect of separation from home and family on thousands of British child migrants sent to Canada and Australia.

Geoffrey Sherington

, Author
Hi Patricia. Thank you so much for your book. I am half way through it already and find it so interesting as I LIVED in the Newcastle area before coming to Canada. Family is so important. It took me so long to find my four brothers and 1 sister, in fact I was 63 years old before I new they existed.
January 19, 2013 All I can say is WOW!  I have read it and found it very well written and very interesting from start to finish.  Other historically based books that I tried to read were very dry and either it took a long time to read or I gave up on them.  Way to go!